Golden Gate Garden Plan
After five years of waiting, Marshall and I were elated when the city of Belvedere approved our renovation project. Dining on the terrace that night with Toby, we toasted our good fortune, vowing to preserve the historic roots of our 1927 Spanish Revival cottage and keep the surrounding property filled with beauty.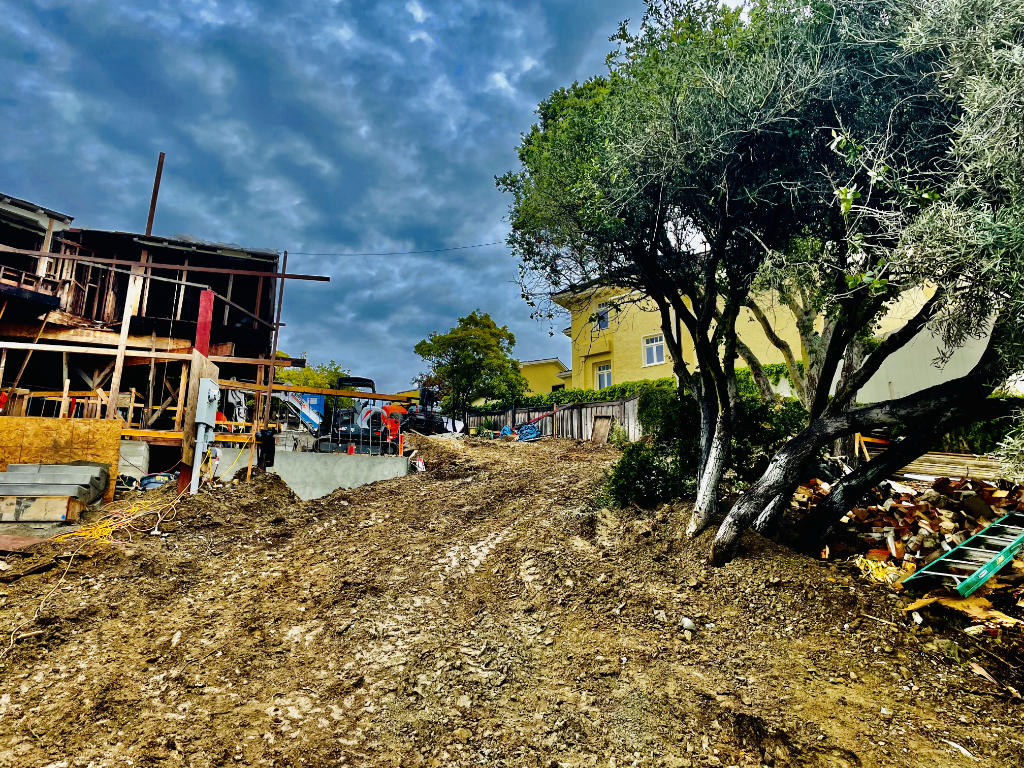 Sadly, however, a condition of approval was the removal of two dozen trees on our property that represented a fire hazard according to our local Fire District. I was heartbroken when I saw huge red X's spray painted on the trunks of the condemned trees surrounding our home. Now that the trees are removed, our back garden is barren with only six ancient oaks and a few iconic Monterey cypresses remaining.
Once the devastating extraction of trees occurred that I simply could not witness, the city requested a second landscape plan. I reached out to Michelle Derviss, a talented Marin County landscape designer. She graciously created a second backyard plan with access to the lower garden incorporating our four retaining walls. We felt these were essential due to the steep grade that could not be traversed on foot. Her lovely design included stairways, landings, a large planter, small stone patio, a bench and steppingstones. Michelle was committed to several other large projects at the time, but thankfully jump-started us with her concept. Our final backyard plan evolved with imbedding trees on the two lower terraces adjacent to a future expanded stone patio with a proposed wooden pergola attached.
We began the search for trees the Fire and Water Districts would approve to fill our denuded hillside, which was now at risk of substantial erosion. We noticed fruitless olive trees were on the list that my research showed were drought, disease and fire-resistant once they reached maturity. We purchased over a dozen elegant and versatile 50-year-old Swan Hill olive trees that not only thrive in dry, hot valleys like Sonoma and Napa, but by the California coast as well.
Last month, Marshall, Toby and I welcomed 15 silver-leafed, shimmering olive trees we had reserved a year ago as they arrived with bright red plastic bows tied around their golden trunks. A parade of three 19' eight-wheeler flatbed trucks, each carrying five of the pollenless beauties, carefully delivered the trees to our steeply graded property. A huge 8'wide crane can be seen in the image gently moving an olive tree into place. The evergreens made their journey from the Central Valley to the coast on the Golden State's highways arriving gracefully intact with their lush gray green foliage unblemished.
This legendary olive tree was the first to be planted on our property with its root ball submerged in a 4'diameter x 4' deep hole in the ground by our expert tree crew from Sonoma.
A total of 7 evergreens followed that were lowered into deep circular caverns of rich rusty brown dirt between two 7' high concrete retaining walls. Although these olives are drought-tolerant, they require moderate watering when first planted until their roots are established. Trees are strapped in place for now so wind can't topple them.
Even Marshall's six-foot-one height is dwarfed by these magnificent trees that range from 14' to 19' tall. They flourish in the Mediterranean climate of the Bay Area, enhancing hillsides with their sage green beauty and providing considerable shade for flora and fauna. Remarkably, these hardy fruitless specimens are easily transplanted and can live hundreds of years due to their unique root system.
The southern view of Sausalito and the Marin Headlands will be visible from the upper terrace as well as the lower garden terrace once the proposed pergola is in place. Both vistas are framed by California grown classical olive trees in the foreground with the Golden State's emblematic Monterey cypresses beyond.
The view to the east from both upper and lower terraces is of the San Francisco skyline. This image unveils the cityscape peeking through our neighbor's Monterey cypresses while guests relax on the future sunny stone patio under the attached pergola.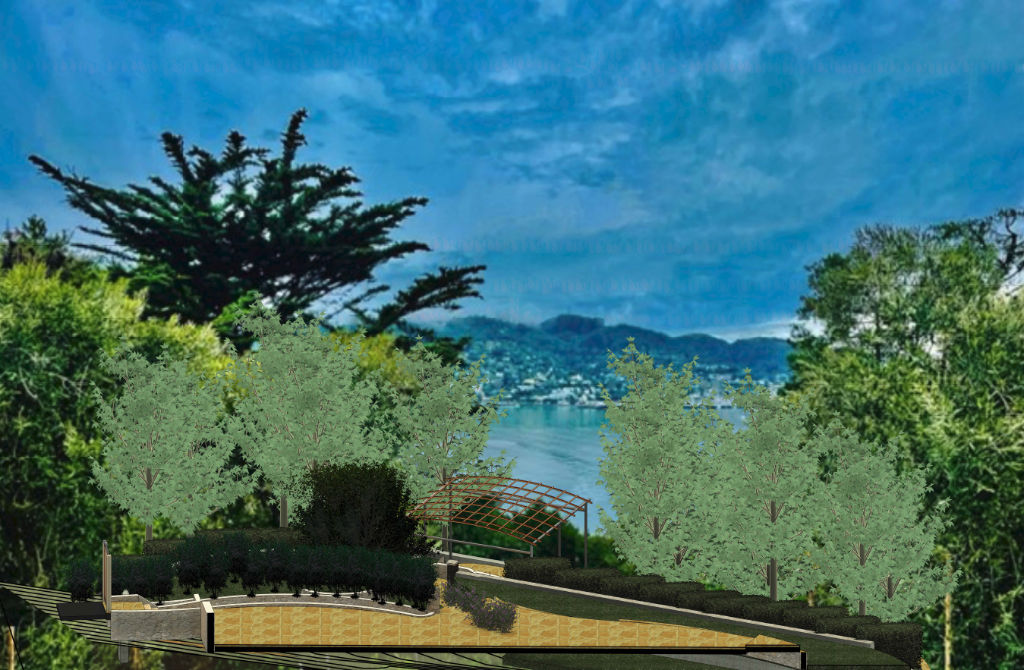 Our project manager, Chuck Bond, created this three- dimensional overview of the terraced garden. The gray concrete retaining walls will ultimately be covered with rocks at their rims. Bay Laurel hedges planted behind will conceal the back of the 7'to 5 ½' high concrete structures painted to harmonize with the color of the rocks at their apex.
A vision of the future destination in the center of our hillside garden consists of an expansive stone patio embedded in sand below a roughhewn cedar pergola that looks and feels as if they have been there forever. Lush green, flat-leafed foliage bearing crisp jigsaw edges delights with whimsical wandering vines growing up the arbor's crusty vertical frame. Prolific grapevines energized by the sun entwine themselves into a 9' high ruggedly arched rectangular grid supported by four legs. A rustic 5½' rock planter bursting with aromatic French Lavender anchors the north footprint of the pergola. Depending on the time of year and type of varietals, the open air structure is filled with earthy fragrancies of luscious pink, blue, purple, red and green clusters of California grapes hanging from the rafters.
Groves of enchanting olive trees symbolizing peace, goodwill and the eternal link between man and the earth frames the entrance of our garden venue. In ancient times, extending an olive branch meant the end of hostilities and conflict, a much needed, soul-stirring reminder for today's world. Toby can't wait to greet friends, neighbors and doggies in the garden.
For the love of nature,
XOX,
Linda & Tobywan-Kenobe